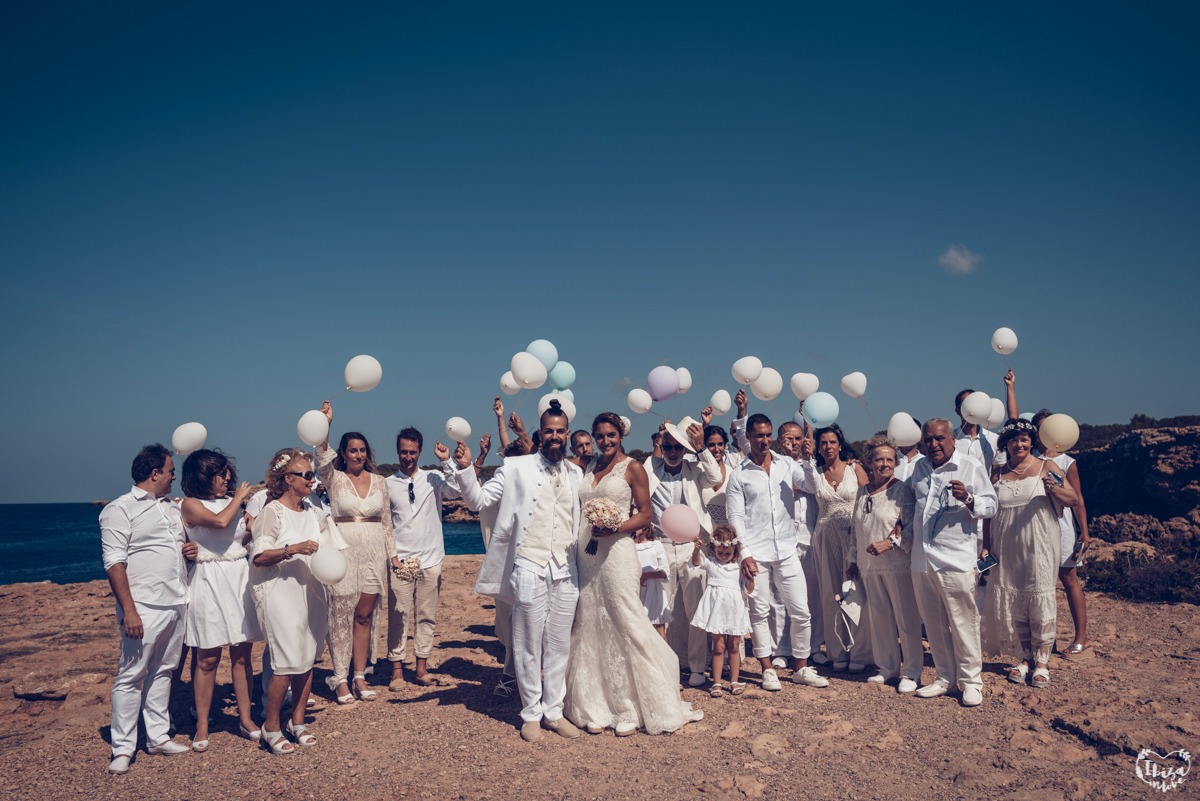 Yolanda & Nacho  (Zaragoza/Ibiza)
Thanks Raquel, we still feel as if on clouds after the pre- wedding, wedding and post wedding ;). Everything was 100% perfect and without your help it would not have been possible. Just imagine what would have been arriving on the boat without you arranging the drone, the whole procession, and so many details that you prepared for us at all times; we only have images of emotion and beauty. The ceremony, when you intervened, even Nacho was moved! Everything was delightful and then you coordinated all the entertainment with the DJ, that way we enjoyed a great party from the beginning. Thanks again.
I co-officiated with the Mayor of San José, so Yolanda and Nacho's ceremony was just as complete as their wedding. I am deeply moved talking
about them, they are pure gold, totally in love, with overflowing energy and so thoughtful.»Read+»
They were co-creators of their wedding, as they designed a multitude of details and devised surprises while, at the same time, they allowed me to do my job as their wedding planner, because they understood that so much imagination and ideas for the guests to enjoy every moment wouldn´t have been possible without help .
That way I had the privilege of getting to know them even more, so in the ceremony talking about them, dedicating them selected verses mixed with anecdotes, turned it into what they wished for, a unique "Yoli & Nacho" moment: strong and tender like them.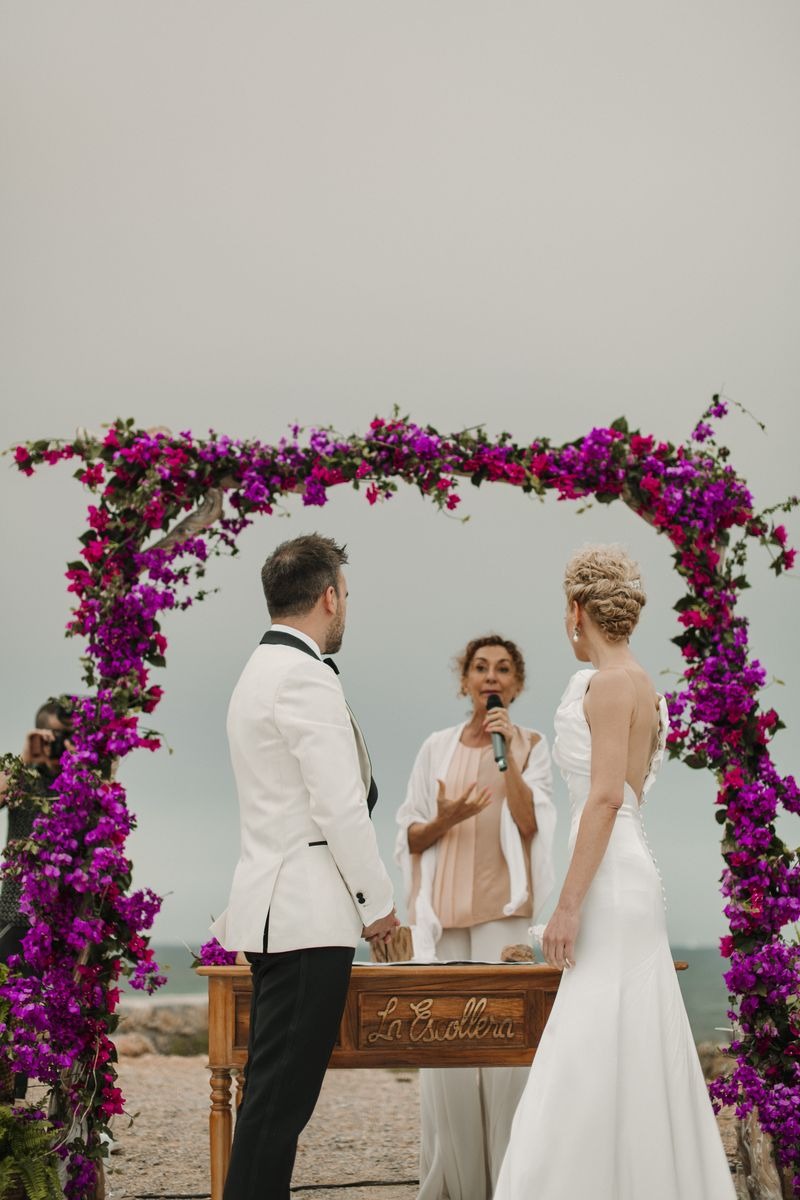 Guillermo & Paula (Madrid)
Raquel, thank you very much for making of the ceremony much more than we had dreamed of. Our guests ask us "how did you know her?" (They think you've known us forever). You conveyed and created the spirituality and awareness that we wanted, and it was also fun, dynamic and with so much meaning for us. Now we have one more reason to love Ibiza.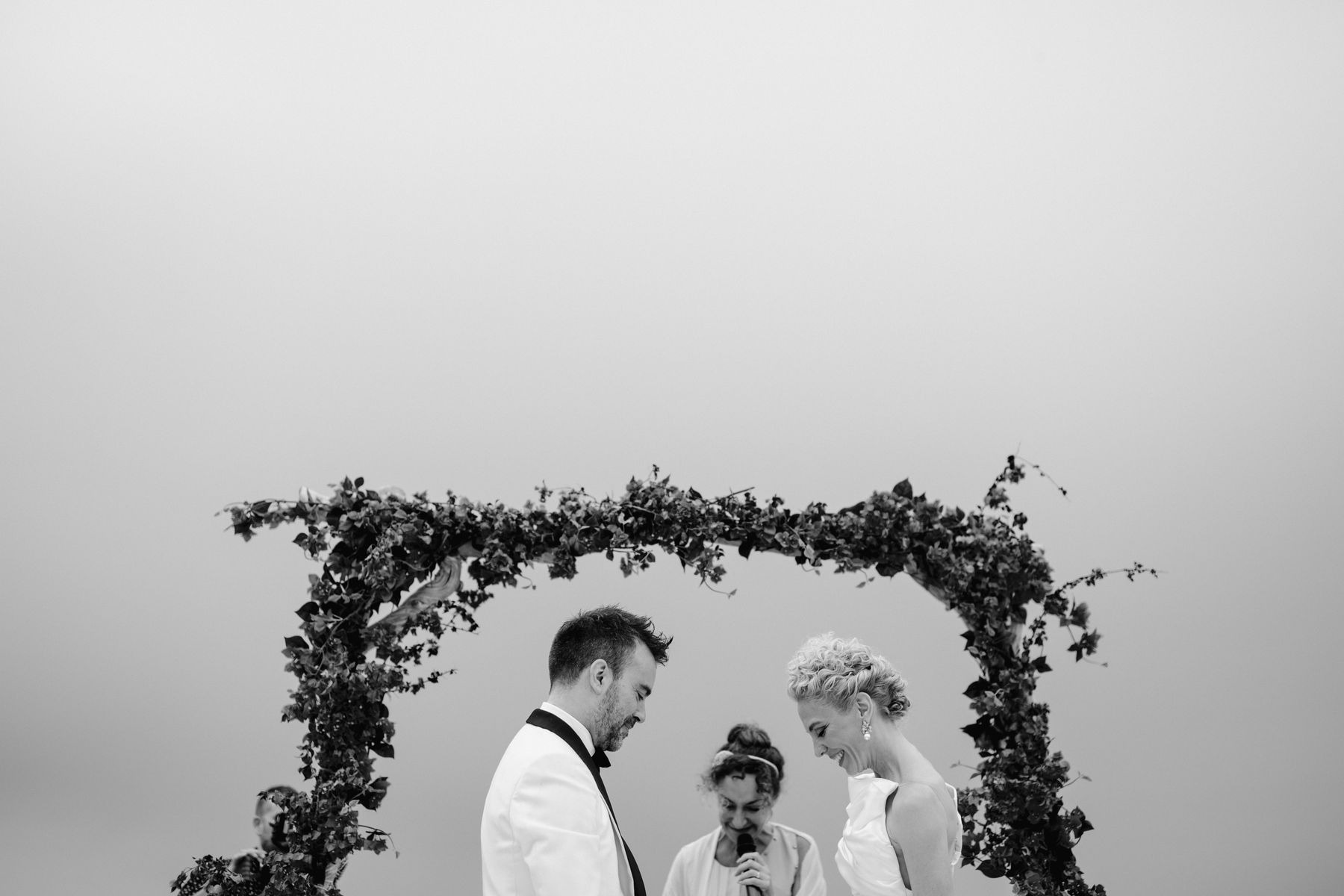 Elegance. Elegance and wisdom. Elegance, wisdom and personal growth. Perhaps this is how the path of this beautiful couple could be defined. Their elegance combines with wisdom, culture and artistic concerns.

»Read+»
And hand in hand they decide to grow spiritually and humanly, and being something inherent to them, they magnificently transfer it to their marriage.
I listened mindfullly to them, learnt from them, from their suggestions on new rituals and ways of addressing their guests.This way I created and enjoyed a magical ceremony. Because you don't always know how an audience will react and if everyone is on the same page.
Thanks to Guillermo and Paula now I know never to doubt about how much good or emotional can be offered, either at a ceremony or in life, if it is done from humility and knowledge. How happy I am remembering their smiles and Alejandra's, the apple of their eyes. Moon river, their favourite tune, shone by the sea.
»»
Estefania & Ángel  (Cuba/Ibiza)
Raquelitaaaa, thank you very much from the whole family. Having you organizing the pre-wedding dinner, with dress code ideas, staging, games in order that our families would meet each other, from that moment we did feel that we really were going to get married!! ;).
And on the wedding day, we felt so safe seeing you arrange every detail all over the place. Without you I wouldn´t have had a veil, nor would anything have been in time. That way at the ceremony we really enjoyed ourselves and felt at ease. Thank you for your words, for involving everyone and also ensuring that at the dinner we did not stop laughing and dancing. See you in Havana.

Dreams come true … that is said about weddings. But in this one, the dream that came true was also mine: to officiate and supervise a wedding in Cuba !!
»Read+»
As in Ibiza I live surrounded by artists, a beautiful couple of great artists who know of my weakness for Cuban traditions, music and culture, offered me the privilege of being their "wedding planner" on the road, as well as the ceremony officiant, because they moved to Cuba from Ibiza to get married.
It was an intense, spectacular experience and very close to the families of the bride and groom, as "faraway from home" everything is more effusive. Serving as a bridge and facilitating everything to materialize was a double privilege.
The ceremony merged Cuba and Ibiza: from the moment the bride and groom entered, we all danced, toasted, and of course cried happily moved! Because even being a professional, if the excitement and tenderness of two lovers and their families does not reach you, it is impossible to transmit it.
»»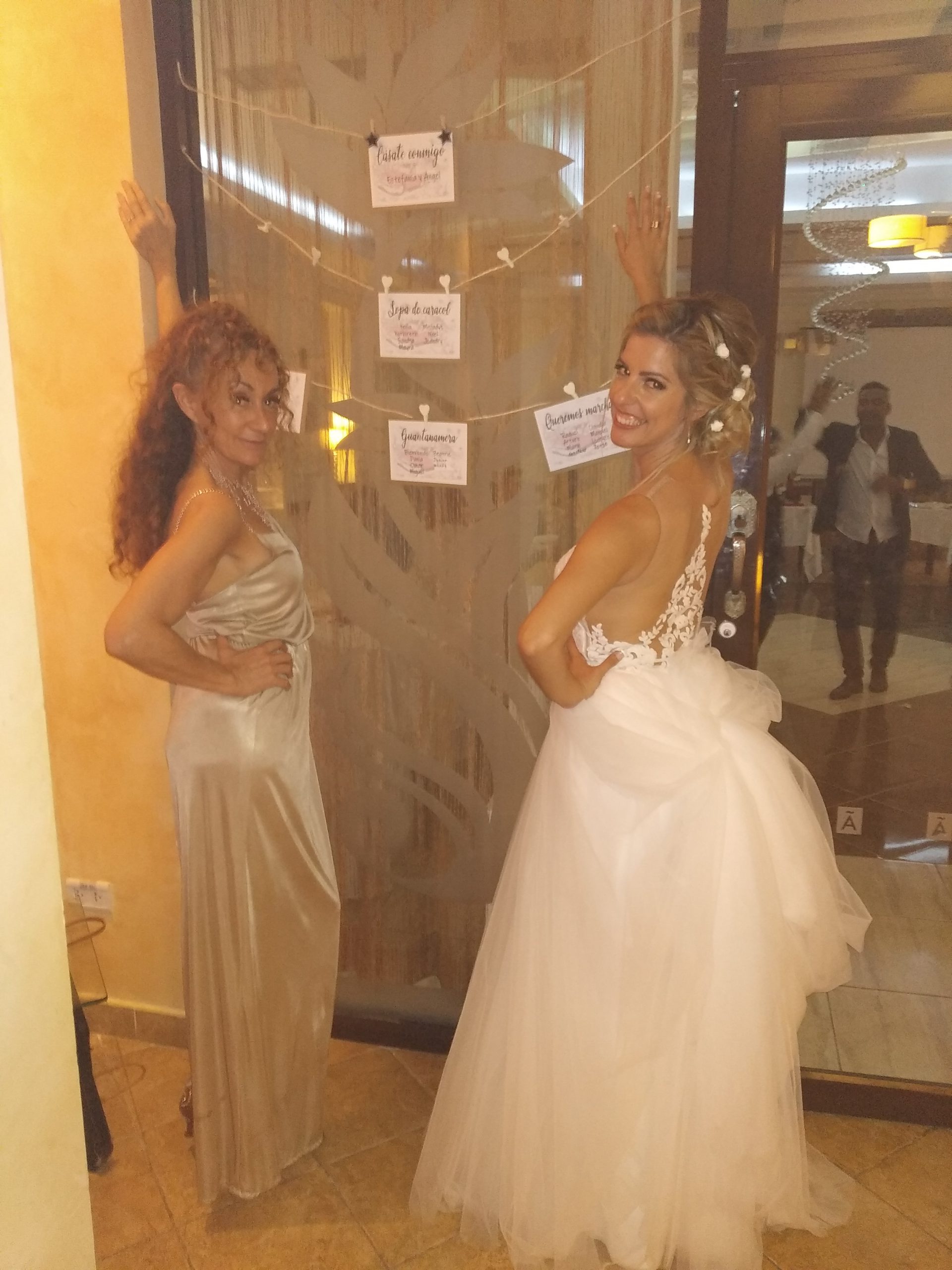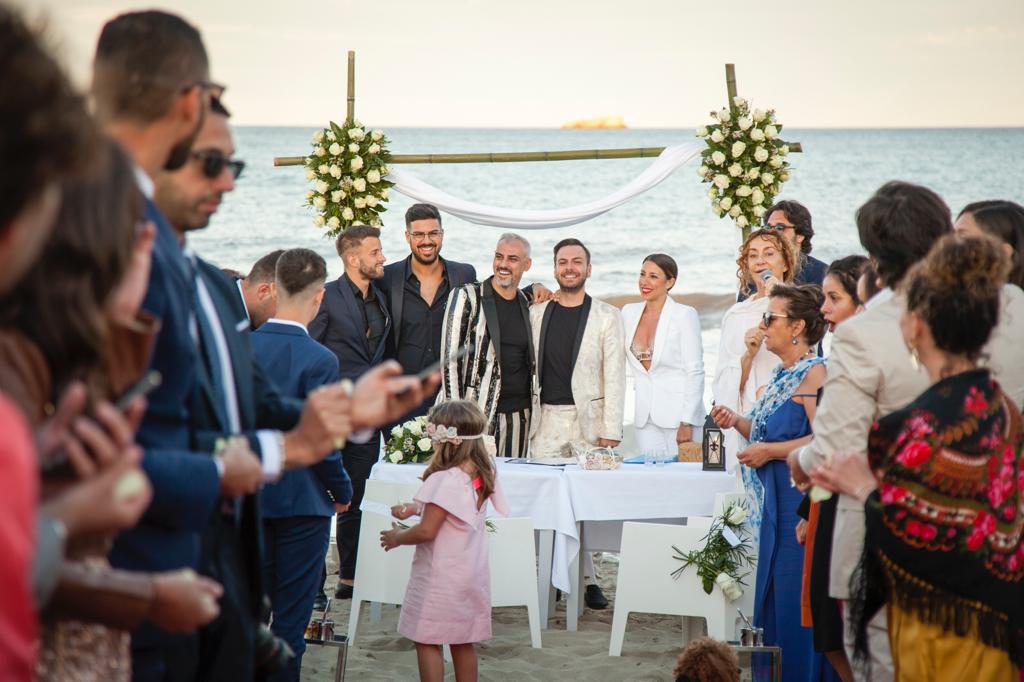 Salvo & Dante (Italia)
Thank you for our fantastic, exciting ceremony, where we felt comfortable and delighted. And our friends really enjoyed it. We send you the photos and video that we already have, it was perfect!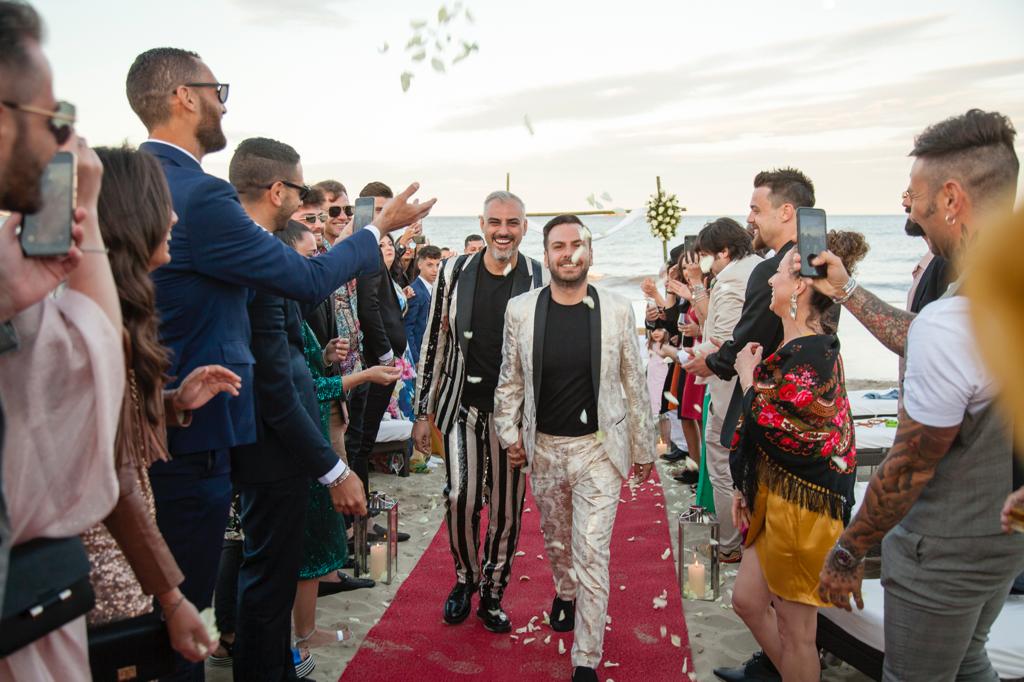 Thank you for our fantastic, exciting ceremony, where we felt comfortable and delighted. And our friends really enjoyed it. We send you the photos and video that we already have, it was perfect!
»Read+»
It didn't seem easy to surprise such a chic couple, who share so many incredible and creative experiences, and at the same time to give the ceremony the emotional touch.
Besides, their time is money, always busy, traveling back and forth, so obtaining their stories, getting to know them for real, took some of that valuable time.
I therefore realized how much they mean to each other and how they are a mutual haven of peace and balance. They really wanted to get married and give those happy moments and days to each other and to their friends and families.
So being at the altar observing how they arrived nervous, and little by little they entered the perfect and magical harmony of the ceremony, how their beautiful friend dedicated her best memories and words, as the mother smiled tenderly, already accustomed to the passionate life of her son, happy to know that he is loved and accompanied, and to observe each touch of the groom's hands, each accomplice look, the vows whispered in each others´ ears; in short, being able to be the "conductor" of so many notes and let them produce their best sound was exceptional.
»»
PAQUI & BOSCO (Málaga)
We can only say thank you very much to all of you who collaborated to make the wedding exceptional. We were very excited about how everything would turn on, and you knew how to shape it and our guests were amazed. We have lived a dream that exceeded our expectations and you wrapped us in happiness.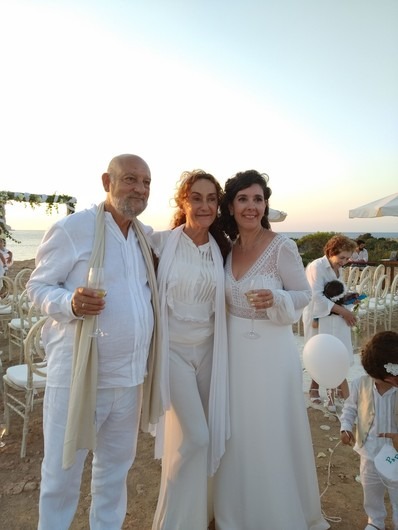 There are couples whose sweetness totally dismantles me. Those loves "against all odds" simmered slowly, with care and for that reason their flavor is sublime. The love of Paqui and Bosco is one of them, of those that have their romantic date on Fridays  even as the years go by, that dance in the living room and kiss each other in the hall every so often. So the wedding was just as romantic as they are:

»Read+»
Cliff, sunset, white dress code to bring us all together and plenty of  tissues for the tears of emotion !! But also toasts at the altar and soul friends that although they could not be there with them, with my "secret tricks" I managed to make them appear. Love was in the air and in the hearts.
»»
Marcel & Gloria (Alemania, Venezuela e Ibiza)
Raquel, you are a tremendous celebrant! Fabulous! Couldn't be better. Thank you .
 
Weddings in difficult times (new normality) have shown me that when the intention is to celebrate love, to gather those who have heartly supported a relationship, the excitement is exactly the same.

»Read+»
Marcel and Gloria have a solid love that reunited two cultures in Ibiza, two very large families who were infected with laughter, that loud and spontaneus joy that characterizes them. A ceremony under the sun, where we breathed pure merriment.
»»
Silvia & Vero (Madrid)
We loved the ceremony, and we had a great time! You are a great professional.
A wedding at sunrise !! I had never done that before and the idea that Silvia and Vero had was dazzling.
Deserted beach, the very Eastern end in Ibiza, (those hidden corners that only residents know), setting up still in the dark to surprise them at arrival, feeling the warmth of the first sun rays, and while they went down the stone stairway notes of their favorite song playing : Have you ever really loved a woman ?.

»Read+»
As a romantic film image it is ideal, but it´s essential for me to do my "homework" before. To reassurance them months ahead that I know what I am doing, that the rituals they are going to choose are not artificial, that speaking with each one of them separately is what will give me the tips and ideas for a verse, for a silence, so that they can truly connect. This is how a setting and two excited protagonists turns into a fairytale.
Elope or secret weddings also have dancing, toasts, petals, love declarations, and many more details that make them as unforgettable as Silvia's and Vero.
»»