Elope weddings
Secret ,  intimate ,  runaway   or   elope weddings, are for couples who prefer to enjoy a private "I do",  just for themselves.
Super romantics,  they decide to escape routine and protocols, to make  of  the  ceremony  a heartfelt tribute to their feelings and to the story that only belongs to them.
If they are settled   couples ,  they   may   be   accompanied by their children  as  they  understand  the  ceremony as a reaffirmation of the family bond.
I   write   and   officiate your elope ceremony the same way as the personalized one, and we can also include every detail and ritual you wish, because in this case the ceremony really is the main moment of your wedding.
Time does not matter … you have come to enjoy every second together. You will be both protagonists and witnesses of your own "love story".
Imagine that beautiful hidden corner,  the perfect view to the sea or to the mountains, where the heart vibrates just by imagining it;  You will arrive excited and the magic will begin beyond your expectations.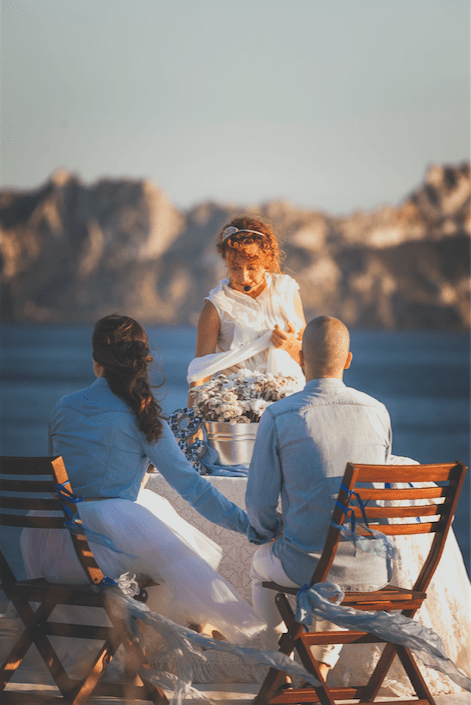 Taking care of every detail
In addition to writing and officiating your ceremony,  we can organize the entire wedding, since we know all those unique locations, with true essence,  where to get lost together,  and let the soul enjoy an unforgettable experience.
We collaborate with the best decorators, restaurateurs and professionals in Ibiza and Formentera.
Intimate weddings are the ones that we cherish the most.
Surprising your partner
I have also officiated "Surprise Weddings" where it is one of the spouses who surprises the other.  And "Engagement Ceremonies" where instead of the "I do" to the marriage, the answer is "Yes I do",  to be life partners, walking together the path destiny has prepared for you.
It is the story of your love,  and I tell its chapters.