Celebrating your unique love story

I  will  need  to  know   as   much   as   possible   about  your  story: anecdotes ,  what do you mean to each  other ,  your  values ,  in order   to   personalize     it.  Imagine    your    story     told    with    a sensitivity   nod ,  humor  and at the same time in tune with the appropriated concept of  "wedding".
Once    you      have      contacted     me  ,   I     send     you     different  rituals,   reading   options , vows   and   our   extensive   file  that includes    all    kinds   of   details   to   let   me   understand    which ceremony   style   suits   you   best.
I  always  suggest that naturalness, romanticism and harmony with  the  chosen  location be what guide the ceremony spirit ;  this     way     it     will     be     more     authentic.   Beaches    or   rural environments    allow    rituals    in    line    with    nature.  In  cities ,  halls       or       specific       locations      we     will     focus     on      rites consistent   with   the   setting.
The    ceremony     it    self   is     a     blessing    and   celebration  of   what  you  have  lived  as  a couple and of the decision to offer yourselves   as   companions   for   life.   Beyond   creeds,  these types   of ceremonies reach the hearts of guests and couples,  no     matter     if   they    are   traditional   or    modern ,    as     they   are    designed    and   experienced   with   love   and   complicity.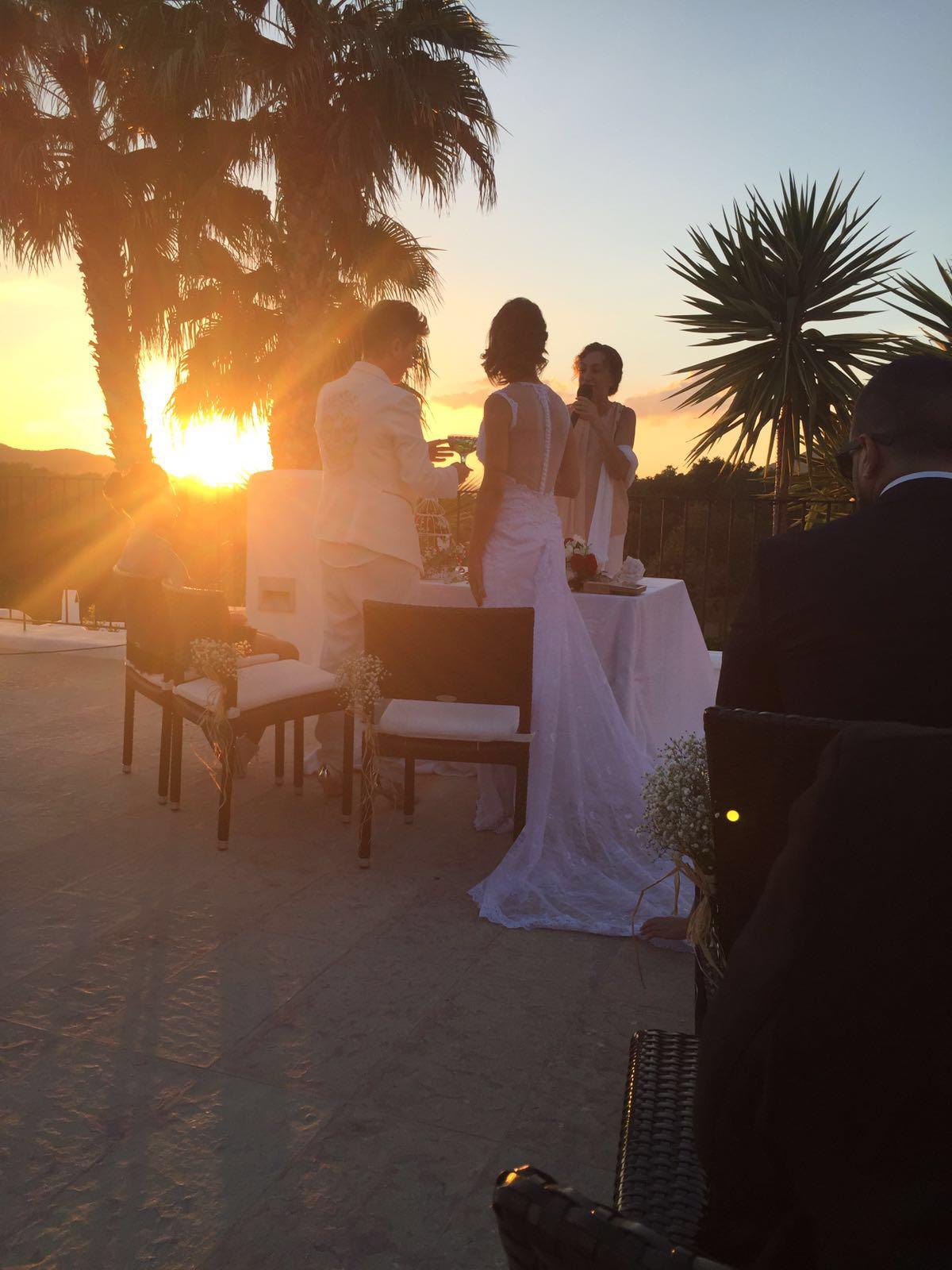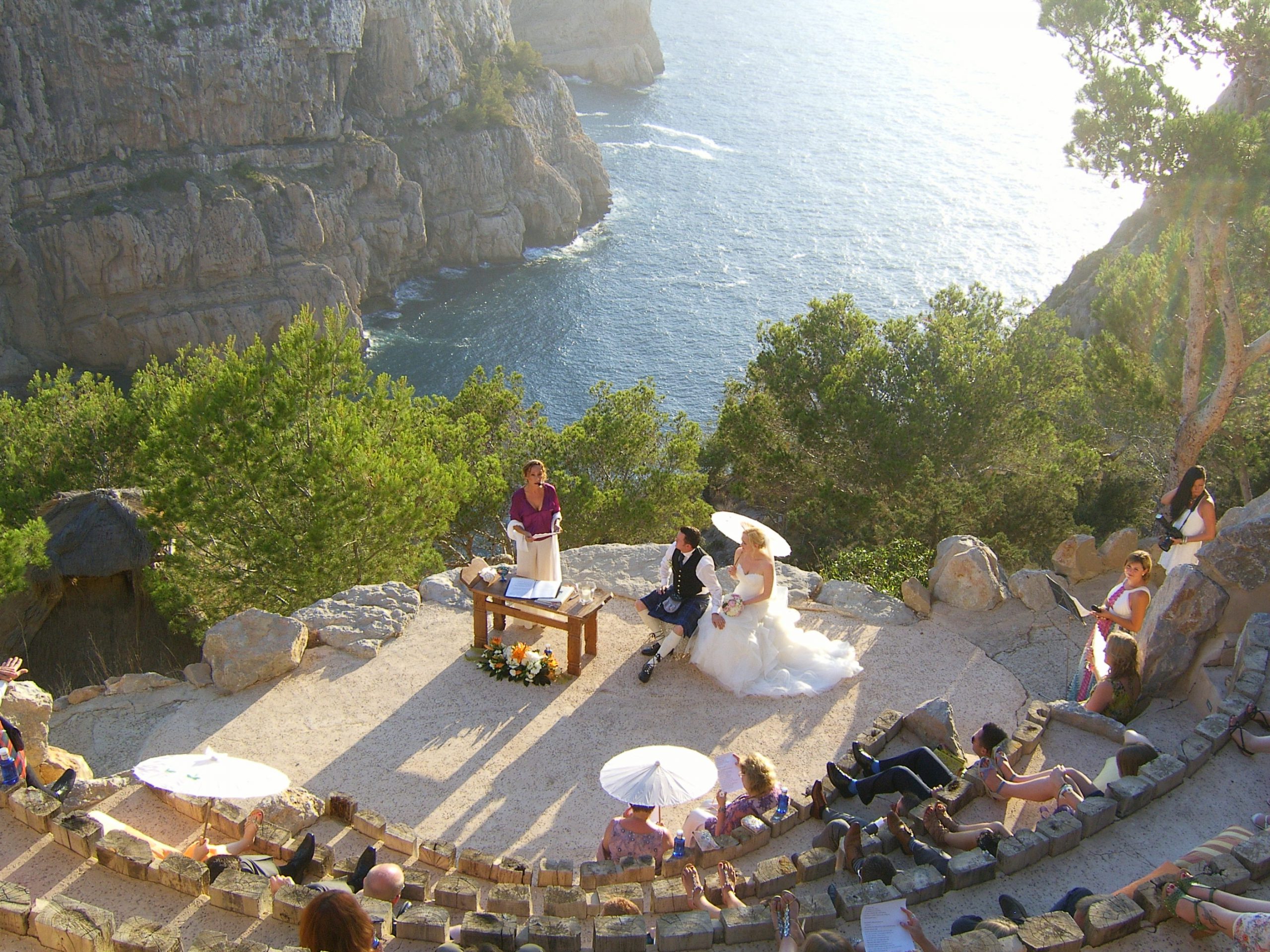 The music, the guests, the feelings…
 I know the importance of photographs and video, those images that will accompany you throughout your life as a memory of your day, so I will suggest where and how to locate you ( sitting, standing, in V, facing the guests …). Thanks to the rituals we'll get beautiful images quite different from those of the ceremonies that only show the back of the bride and groom without expressiveness or emotion.
We can design traditional bridal processions or as elaborated and theatrical as you wish. I will advise you on this and also in the sitting of the first rows. If you have a wedding planner, she will facilitate those details.
The participation of family or friends is very valuable. I can suggest rituals in which they may join in, or they can bring their own writings and ideas. My mission is also to coordinate the length of those readings and the overall duration of the ceremony according to the organization chart of the rest of the event.
Music, another factor that draws and defines the rhythm of the ceremony (either if it's live, played, instrumental or sang), will  be  the  one  you  prefer ;  I'll  suggest  when  to include  the  different  songs. Through  music, we will create authentic experiences within the ceremony (joy , emotion , romanticism …).
The meetings and the program
If you have guests who speak different languages, I will use a main one and short translations in the other ones, to keep everyone's focus and not to lose momentum. And if you wish the symbolic ceremony to have legal value, I will co-officiate with the designated official figure.
The blessing length will meet the organization chart needs, taking into account the rest of the event, and if there is a sunset or anything special prepared after the ceremony. It can last up to 45 minutes when it involves guests' intervention and is enjoyable, with rituals, music, and surprises.
I will provide everything you may need by skype, telephone and during visits to the location, and days before the event we will do a rehearsal if necessary.
What I always achieve is that you feel relaxed knowing that everything is well organized and to your taste. On your special day there will smiles, loving glances, complicity, and I always keep an Ace up my sleeve to surprise you a little.
I can manage the official ceremony too, (if it is feasible in your case) as well as the entire wedding organization in Ibiza and Formentera if you wish, with over a decade of experience and success.