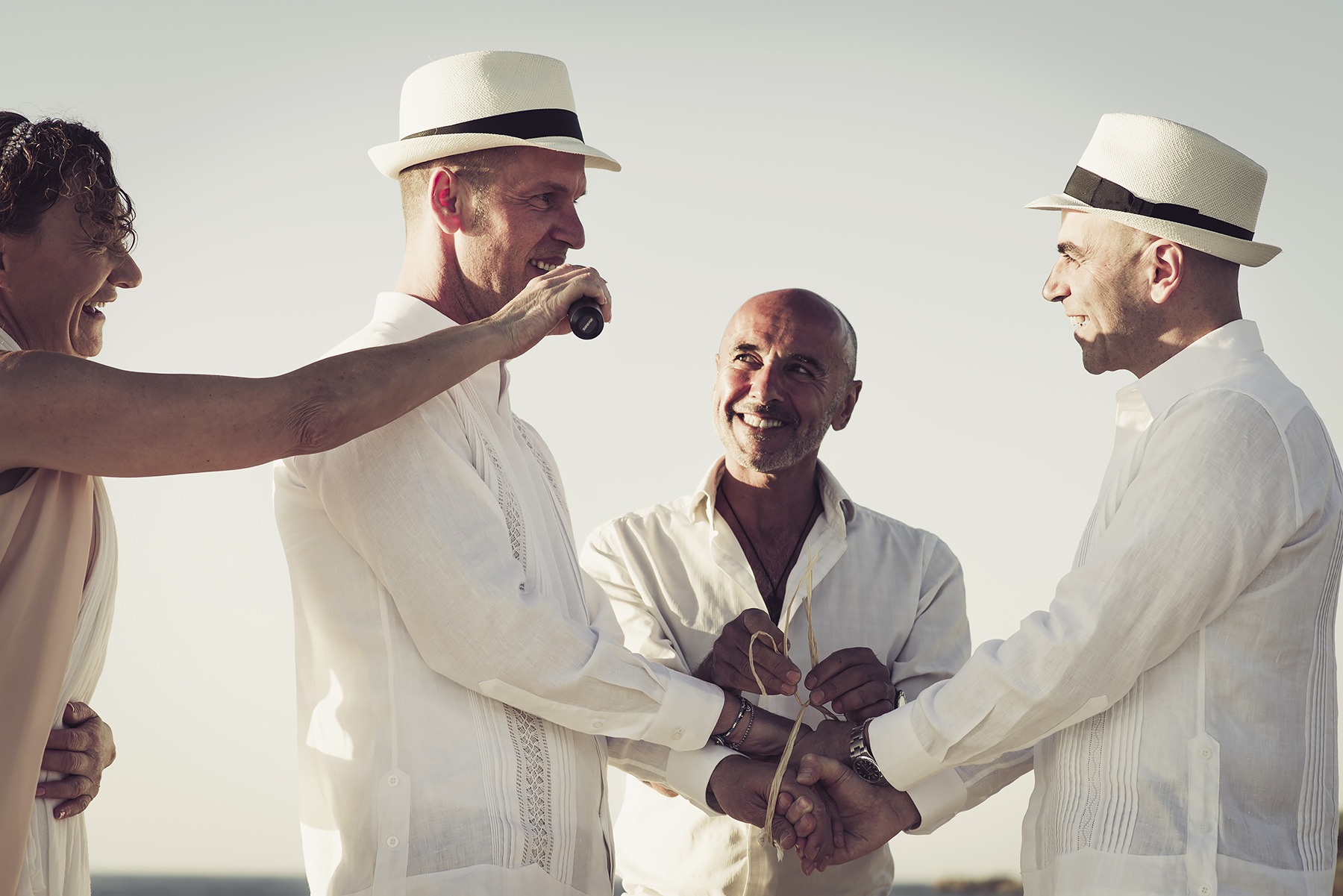 Flower necklaces: The Lei (Hawaiian necklace) represents sweetness, dedication, prosperity. It can never be removed in the presence of whoever puts it on you and when it is no longer needed it will be returned to nature (field, sea) so that its energy continues in it.
It's a good symbol if you don't want rings (or in addition to them).
the 4 elements:  Feel the blessing of nature that surrounds you, through the four essential elements:
Water-  References to the sea, to the flow of rivers and its similarity to love. You will offer each other a glass of water to nourish that love.
Earth-  Feel the island on the skin, and also the solidity and strenght of the rock to start the new path together. I will pour sand from a seashell between your joined hands, a reflection of everything you will share.
Air-  The look in the eyes of our beloved one takes our breath away. For an instant you will connect by looking at each other, it is your moment.
Fire- To become home, warmth for the other. You hold hands to feel that protection.
Fastening and blessing of hands :
Based on the Celtic tradition in which ribbons are used to tie loose knots  between the hands of the spouses.It can be done with the bows, which are placed by the officiant or the guests chosen for it, or without them, simply by holding hands and reading the blessing.
 Coloured Sands / Salt :
Salt of 2 different colours is poured from separate containers to a third, where it will form layers of colour. Each colour continues to exist and maintains its identity, but will remain linked, indivisible with the other.
* It is believed to be the ritual of the coloured sand, but since sand cannot be dyed, salt is used. I may refer to the fact that it is an element of ancestral value, which preserves everything valuable and nutritious.
* It can also be done with undyed sand / earth, from the places of origin of the bride and groom or their families, representing the fusion that will be the new home.
Natural products: Oil, Herbs, Salt.
If you like rural environments  or wish to have the fruits of Ibiza present in the marriage, they can be used as decoration in a basket on the altar (or at the base of it) so that they will  symbolize liquid gold (prosperity), herbs (health and joy), salt (preserve and care).
Planting seeds
Earth, a clay pot, seeds of your favorite plant, a small watering can. If you like nature, this ritual will be suitable for you.
* The elements oil, salt, herbs or seeds, properly wrapped, can also be the souvenir gift of your wedding, and thus be linked to the ceremony.